About Graham The Stoveman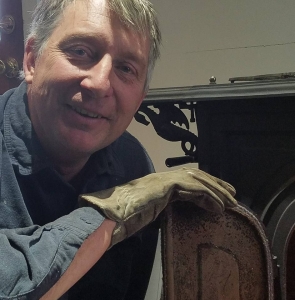 I am Graham Barber usually called Graham the Stoveman – for the last 30 years I've been a wood stove restoration and repair guy.
Most of that time as an independent contractor.
I was trained at the Vermont Castings Foundry in 1983 and I've been working on them ever since. During that time I've worked on nearly every brand of stove and logged thousands of miles in four states.
In addition I have done work for New England wood stove retailers as well as the Hearth Stove Factory and Jotul USA.
I do most of my work now at my shop in Bartlett, New Hampshire. Though I do restoration and repair work on almost any wood burning stove – my specialty is restoring and repairing Vermont Casting Wood Stoves circa 1975 – 1987, I just love 'em, and a vintage Vermont Casting Defiant keeps my family warm through the cold White Mountain winters.
Looking for Wood Stove Restoration or Repair?
Wood Stove Restoration
&

Repair